Main content starts here, tab to start navigating
FROM HARD TIMES, COMES SOMETHING SWEET
Our Founder, James Lane developed the concept for the Spilt Milk in 2020 when restaurants were closed to indoor dining. Initially the shop was only going to sell ice cream, but with further consideration, he added donuts.
"We wanted to bring in something we thought the community would love," says owner James Lane. "Our idea is to make the best ice cream, coffee, and donuts you can find anywhere."
Our selections go beyond traditional glazed and sugar donuts in the morning or chocolate and vanilla ice cream in the evening. Among the many choices of donuts, you'll find Bavarian cream-filled Bismarck, strawberry fritter, praline, pistachio, maple bacon and key-lime cake.
Our variety of ice cream cover a multitude of flavors including tiramisu, watermelon, cheesecake and cotton candy. The shop's coffee goes well with any of the choices. All donuts, ice cream, and coffee are made fresh, in-house and we're always adding new flavors and our design team will even customize donuts for special events.
A massive glass window that separates the kitchen allows you to watch as our bakers load trays and the automated system dispenses the perfect amount of glaze. A kaleidoscope of colors entices you to inquire about the orange or pink or purple ice cream or the cream decorating a raised donut.
LANE UNDERSTANDS THE HOSPITALITY INDUSTRY. HE OWNS ANGELO'S PIZZERIA & BISTRO IN SHALLOTTE AND MARIA'S PIZZERIA NEXT DOOR TO SPILT MILK.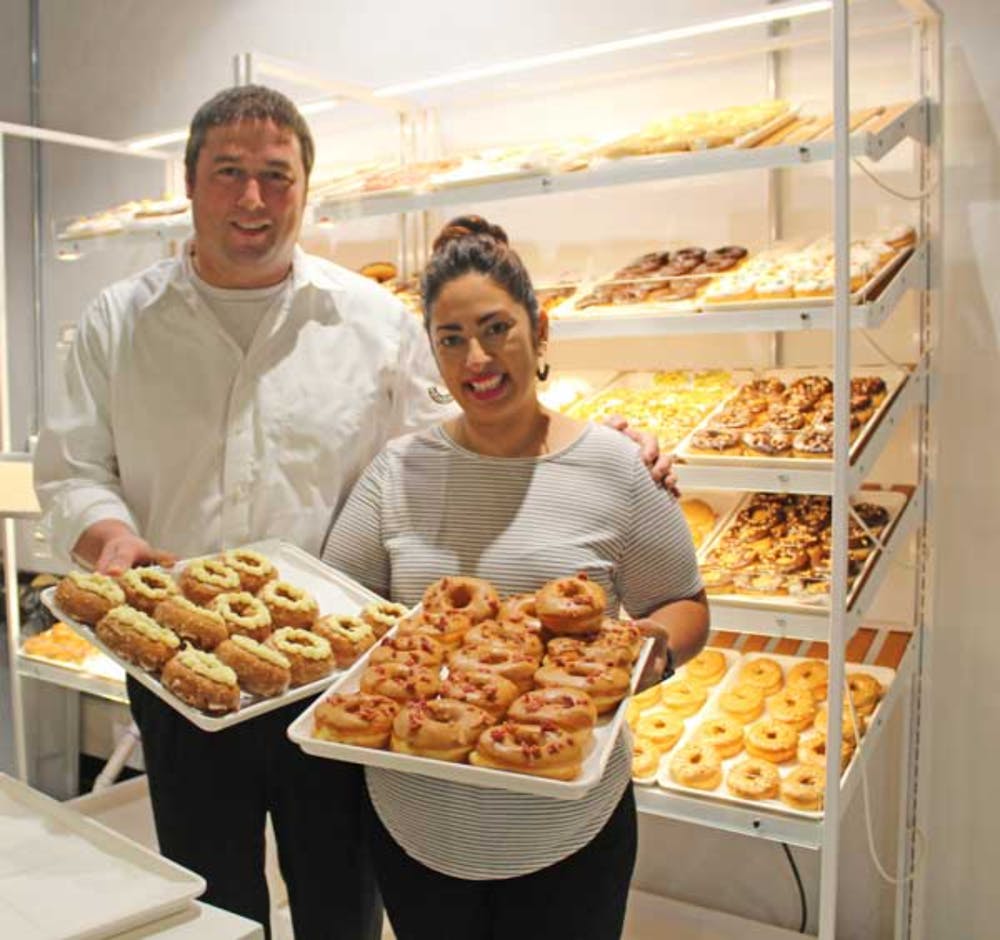 "I've always loved donuts, and we saw a need in the community for a good bakery that makes fresh donuts," Lane says.
The name came about from the shutdown as well. "The way 2020 was going was almost like spilt milk," he says. "It's one of those things that just happens."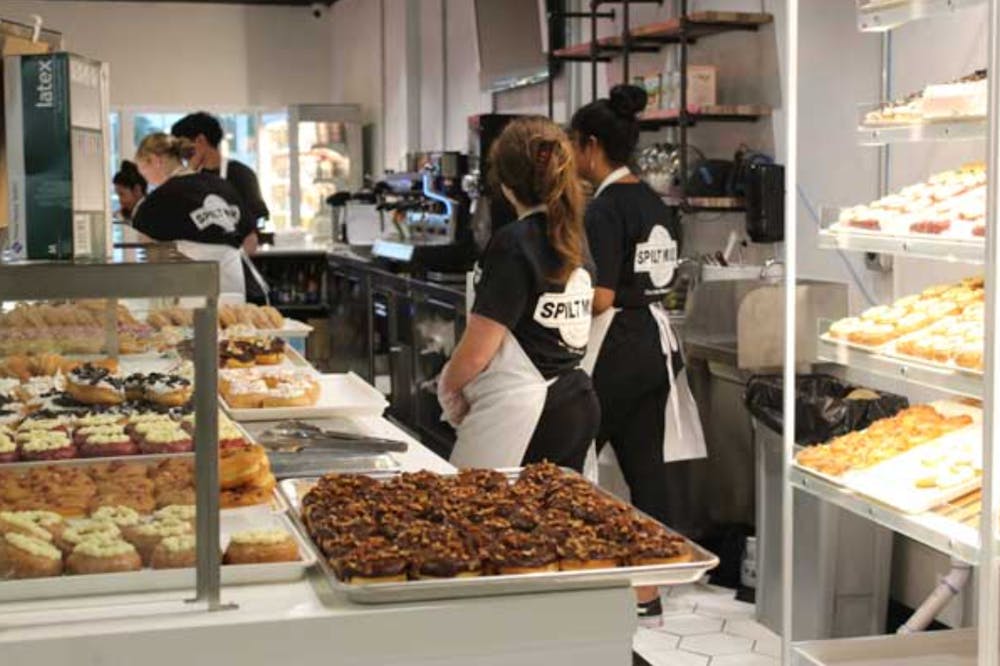 Everything at Spilt Milk is made in-house from scratch. Trained bakers make the dough for donuts and trained workers mix the ingredients for the ice cream and coffee. We especially enjoy seeing the children mesmerized at watching the bakers roll and twist the dough and the machinery open and close and dispense toppings. When you come here, you'll know the donuts are fresh and are made daily.
Lane didn't plan to be a restaurateur. He grew up in Lexington, North Carolina, and wanted to be a teacher, a career his two older sisters pursued. However, after three semesters at Wingate University in Charlotte, he decided teaching golf was where he belonged. He received certification as a golf pro and took a job at the former Baytree Golf Plantation in Little River. When he added an evening job at a Broadway at the Beach restaurant in Myrtle Beach, the owner there believed he could succeed in the restaurant industry.
Lane followed the suggestion and in 2003 he became a partner at Angelo's. When the founder retired in 2010, Lane bought the business. He saw a need for another restaurant in Ocean Isle Beach and opened Maria's in October 2019.
Brunswick County Chamber of Commerce named him one of the 2016 Future 10 Leaders. He and his wife, Ashley, live in Sunset Beach with their school-age daughters Kennedy and Claire.
By the way, in July 2021 Lane opened Macie & Ethel's Kitchen in Holden Beach, which serves Southern dishes from his family's recipes.